In 1978 Kabaivanska was invited by Herbert von Karajan to sing Leonor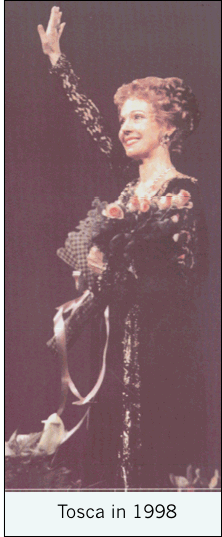 a in the performance of "Il Trovatore" in Vienna. The two stars had a long professional relationship.
The next year the singer took the Austrian award "Golden Rose". For her enormous achievement as Tosca, Butterfly, Manon Lescaut she took the most important prize in her career - "Golden Puccini" (after M. Callas in 1978 and Renata Tebaldi in 1977).
In the 80's Raina Kabaivanska enriched her repertoire with new roles: Manon(Massenet), La Vestale, Fausta, Elizabeth("Roberto Devereux"), Armide, Hanna.
In 1990 she took the Academia "Medicea" Award. In 1993 Raina had phenomenal success in Janachek's "The Macropolous affair" in Turin. An Italian critic wrote: "She is not a diva, she was born a diva!".
In 1995 Raina Kabaivanska took the "Abbiatti" Award and in 2000 the prize "Una vita per la musica". She was five times proclaimed for the most popular person in Italy and two times for the best musician of the year.
In 1997 Raina Kabaivanska made her debut as movie star in "Un bel di vedremo", directed by Ichikawa. The screenplay was written especially for her.

Today Raina Kabaivanska teaches Master Classes in Italy, Bulgaria, Spain, France. She is a professor in the Italian academia "Chigiana". Many her students make a world career.
ON 15 DECEMBER 2004 THE OPERA WORLD CELEBRATES THE 70TH ANNIVERSARY OF THE GREAT OPERA DIVA RAINA KABAIVANSKA. Like she says: "The art and the music give an eternal youth".