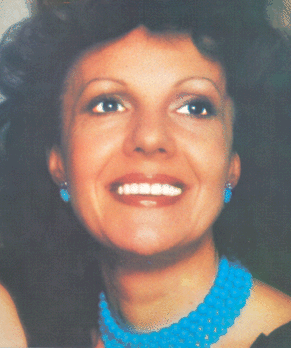 BIOGRAPHY
The Bulgarian soprano Raina Kabaivanska was born on 15 December 1934 in Bourgas. After she had graduated from the Bulgarian State Conservatory, she was sent to postgraduate in Italy with Zita Fumagaly. In 1959, at the age of 24, Kabaivanska made her professional debut as Jorjeta in Puccini's "Il Tabarro" in the theatre of Vercelli. The same year she took the first prize at the competition in Redjo Emilia (Pavarotti took the second prize!!!) and the Silver Viotti (gold for Mario del Monaco and Giulietta Simionato).
Only two years later she made her debut in the Milan La Scala as Agnese in Bellini's "Beatrice di Tenda" with Joan Sutherland as Beatrice. For twenty years she was a great star on the famous stage.
In 1962 she made her Covent Garden debut as Desdemona in the premiere of Verdi's "Otello" with M. del Monaco and Tito Gobbi (in the presence of the British queen). The same year she made her Metropolitan debut as Nedda; after that she appeared for first time on the stages of the Vienna State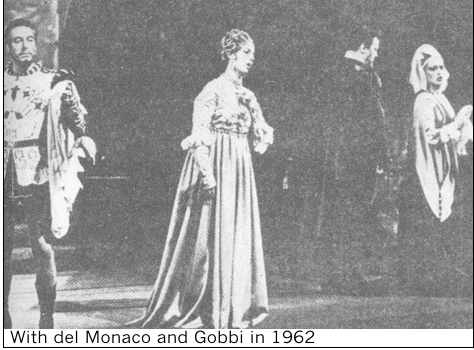 Opera, Teatro Collon, Bolshoi Theatre, Arena di Verona, Paris Grand Opera, Carnegie Hall, Salzburg Festival and on the famous stages all around the world.
Her repertoire included also Mimi, Liu, Suor Angelica, Elizabeth, Alice, Tais, Margueuritte, Lisa, Tatyana. In 1965 she took the Bellini Prize in the company of Maria Callas and Vittorio Gui. The same year the first roses in San Remo were called "Raina" - a sign of the enormous glory of the artist.
In 1967 on the stage of Metropolitan she made her debut as Butterfly. This part takes a major place in Kabaivanska's career. She is considered to be one of the best Cio-Cio-San of all times.
The singer enriched her repertoire with new roles like Manon Lescaut, Leonora, Elvira, Amelia, Adriana Lecouvreur, Franceska da Rimini, Madalena, La Wally. In 1970 she took the prize for best opera couple Kabaivanska-Domingo and the Golden Viotti.
In 1973 Raina participated in the performance of "Vespri Siciliani" directed by M. Callas.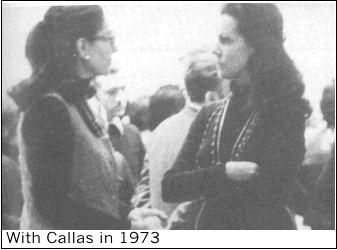 The next year she made her debut as Violetta in Bologna and achieved an enormous success as Tosca in La Scala. The next season she was chosen to be Tosca in the film with P. Domingo, directed by Gianfranco de Bosio. For thirty years (debut in 1971) Raina Kabaivanska performed this opera more than 400 times. She is the one who had singing in the costumes of Sarah Bernhardt.